Basements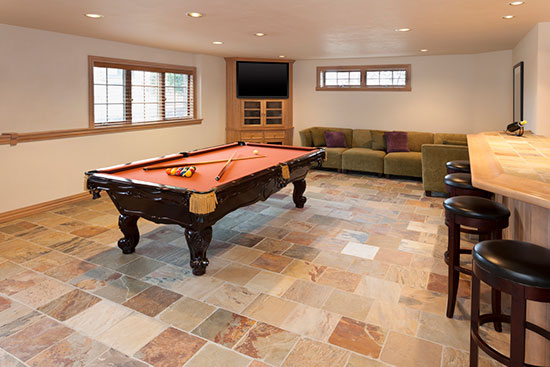 In need of concrete services for a residential or commercial basement? Be it a new or existing basement, G.I. Concrete is your first choice. For new construction, customers can be assured a secure, strong foundation will be poured. G.I. Concrete also replaces weathered concrete within existing homes or businesses, fixing cracks and replacing damaged flooring.
For finished basements, G.I. Concrete offers multiple concrete finishes, such as stained, polished, exposed aggregate, and stamped. Polished concrete is a beautiful, sustainable concrete solution in building construction and remodeling. Stained concrete is similar to staining wood on a deck; once applied, it becomes a permanent part of the concrete. Exposed aggregate is a way to add color or texture to concrete, making it skid resistant and perfect for high-traffic areas. Stamping is a means of adding an artistic design to the concrete, often resembling brick, stone, or wood.
With a strong level of professionalism and care for your project as if it's their own, G.I. Concrete will provide a high level of care with you in mind. Whatever your dream, G.I. Concrete can make it happen.
Work with us today!