Basements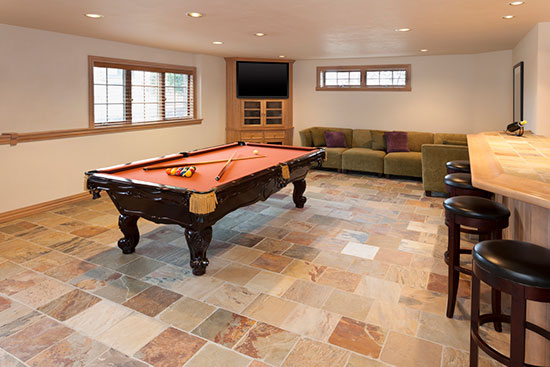 Want Fresh Concrete in the Basement?
Residents always have a different philosophy on a basement. Some use it for storage, while more domesticated folks like to turn it into a second family room. A basement always gives a home or commercial building more opportunity to utilize space. Even if you do not have a finished basement, it is still a good idea to make sure the basement floor foundation has fresh concrete laid down, which eliminates any risk of what old or damaged concrete is capable of doing to your possessions. 
Are you in need of a concrete services provider for a residential or commercial basement? It doesn't matter if your basement is new, or if there is already existing concrete, G.I. Concrete should be your #1 choice! We find in new construction projects that customers can be weary of the security of the concrete being poured. GI Concrete has decades of experience pouring concrete for new construction. You can rest assured of the experience that comes when new concrete is being poured in your basement. G.I. Concrete offers a number of other services besides pouring new concrete in basements. We also replace weathered concrete within existing homes or commercial buildings. If you are looking to have cracks fixed in the basement, GI Concrete will also service such basements as well as replace damaged flooring.
Our Basement Concrete Offering
G.I. Concrete brings a wide array of concrete finishes for any finished basement. The concrete offering consists of stained, polished, exposed aggregate, and stamped. If you are looking for a beautiful, sustainable concrete finish for a building construction or remodeling project in your basement, polished concrete is what we suggest. Stained concrete is similar to staining wood on a deck. When the stain is applied to the concrete, it becomes a permanent part of the concrete, which creates a fresh, new look to the concrete whenever the stain is applied. If you want to add color and texture to the concrete, exposed aggregate would be a great fit. Exposed aggregate makes the concrete skid resistant, which is perfect for high-traffic areas. If you want to add an artistic design to any area of concrete in the basement, stamping can be done for the concrete to resemble resembling brick, stone, or wood.
GI Concrete brings a strong level of professionalism and care to the table of your next concrete project. Our goal is to put you first, and bring whatever dream you have for your next concrete project, to life! 
Contact us if you want to start working today!